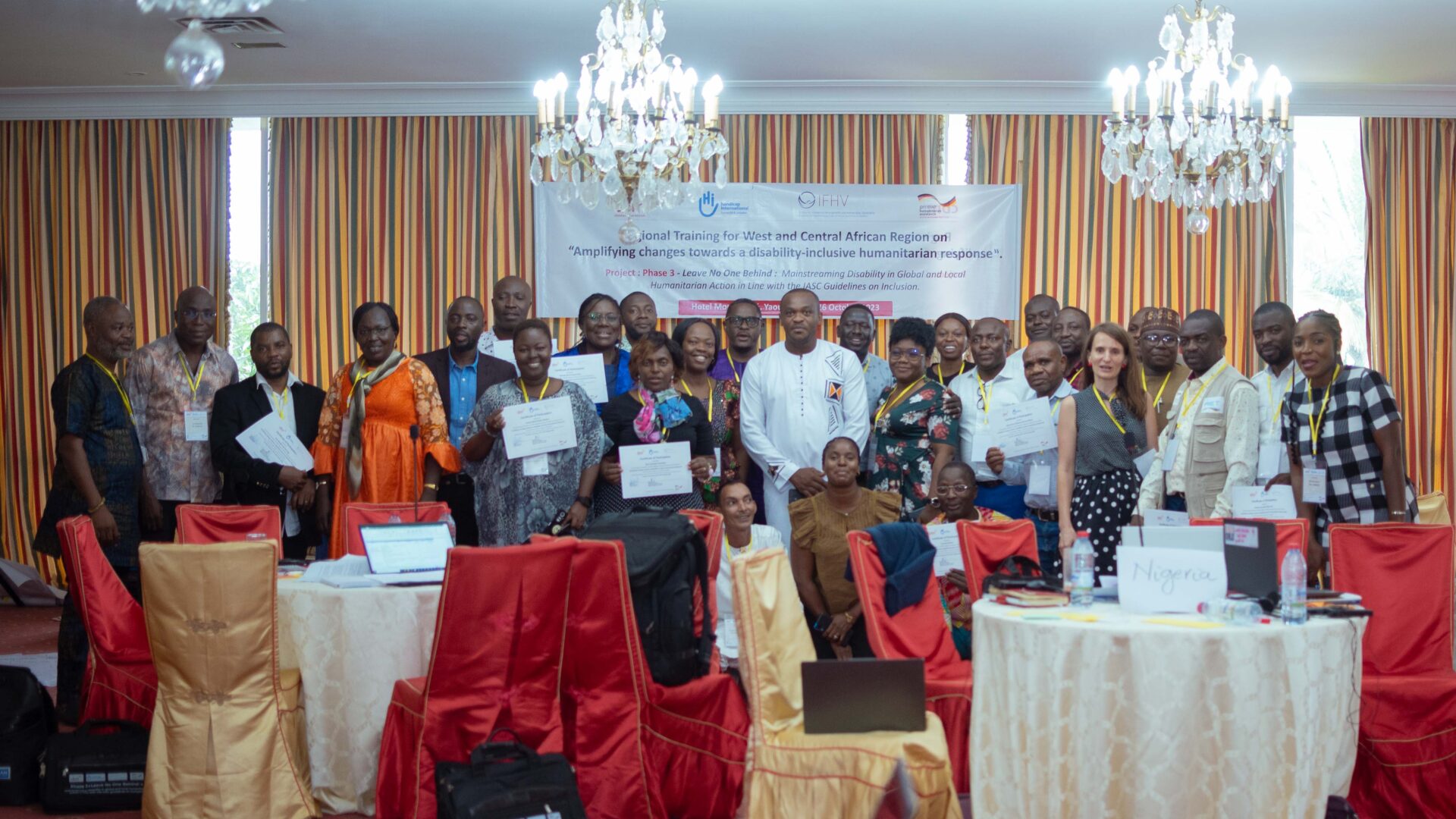 Our project partner CBM organized a regional training for West and Central Africa on "Amplifying changes towards a disability-inclusive humanitarian response" from October 24th until October 26th in Yaoundé, Cameroon.
In total, 23 participants from six different countries consisting of Niger, Nigeria, Cameroon, Chad, Togo and Democratic Republic of the Congo shared experiences and ideas about how to include persons with disabilities in humanitarian programs. Several humanitarian organizations were present, representing a diverse range of stakeholders from International Organisations, UN-Agencies and international to national and local NGOs, including World Food Programme, International Committee of the Red Cross, Danish Refugee Council, Plan International, Street Child Nigeria and ADKOUL Niger.     
Accessibility was a high priority for the training, with an accessible venue, online training with subtitles and simultaneous English-French translation to ensure adequate communication between diverse participants.
An online introduction informed participants about training logistics and recommended self-paced learning materials. The first training day in Yaoundé introduced the concept of disability, the IASC Guidelines and other approaches and tools for disability-inclusive humanitarian action. The following day they delved into the Washington Group Questions – their practical application and different qualitative and quantitative approaches to data collection. Another crucial topic was the collaboration with and the role of Organizations of Persons with Disabilities (OPDs) in humanitarian action. During the training the OPDs not only acted as co-facilitators but also actively contributed to the training days. 
Most of the training was dedicated to practice-oriented sessions linked to their own project work and consulting specific chapters of the IASC guidelines in group work and plenary discussions.
To ensure a diverse exchange and new collaborations, people from different countries were brought together in group work to then reflect on their new impressions at the individual country tables. One result of this method of collaboration is the planned formation of a Cameroon task force on disability inclusion.
Text by Laura Masuch