High level training on mainstreaming disability in humanitarian action by operationalizing the IASC guidelines on the Inclusion of Persons with disabilities conducted under the "Phase 3 – Leave No One Behind!" -project in Yaoundé, Cameroon, from 29th to 31st May 2023.
Our project partner CBM organized a 3-day training on inclusive humanitarian action to strengthen the capacities of country directors and programme managers of United Nations agencies, international NGOs and Heads of Organizations of Persons with Disabilities (OPDs). The training was based on the guidelines of the Inter-Agency Standing Committee (IASC) on the Inclusion of Persons with Disabilities in Humanitarian Action and held in Yaoundé, Cameroon.
The training, organized in collaboration with UNICEF, was attended by 32 persons (18 women, 14 men), coming from 21 humanitarian organisations including UN-agencies like UN-OCHA and UNICEF and influential international NGOs such as the Norwegian Refugee Council (NRC), ministries and organizations of persons with disabilities from Cameroon.
Focusing on the rights of persons with disabilities, the training gave an overview on the current situation of persons with disabilities in humanitarian crisis and on the specific situation in Cameroon, before abording topics such as collaboration with OPDs and inclusive project cycle management. It emphasized the importance of ensuring meaningful participation of persons with disabilities in all stages of response by ensuring the implementation of the Four Must Do Actions of the IASC Guidelines. These are: removal of barriers and meaningful participation, empowerment, and capacity development of persons with disabilities as well as collecting disaggregated data.
The training was characterized by high motivation and commitment of the participants. It increased their willingness to develop or adapt tools/strategies to design and effectively implement inclusive humanitarian programs. Activities under the Leave no one behind! project, which is implemented by AFWC in Cameroon, Nigeria and Niger, include technical support to various organizations for achieving the objective of integrating inclusion of persons with disabilities into all their humanitarian actions.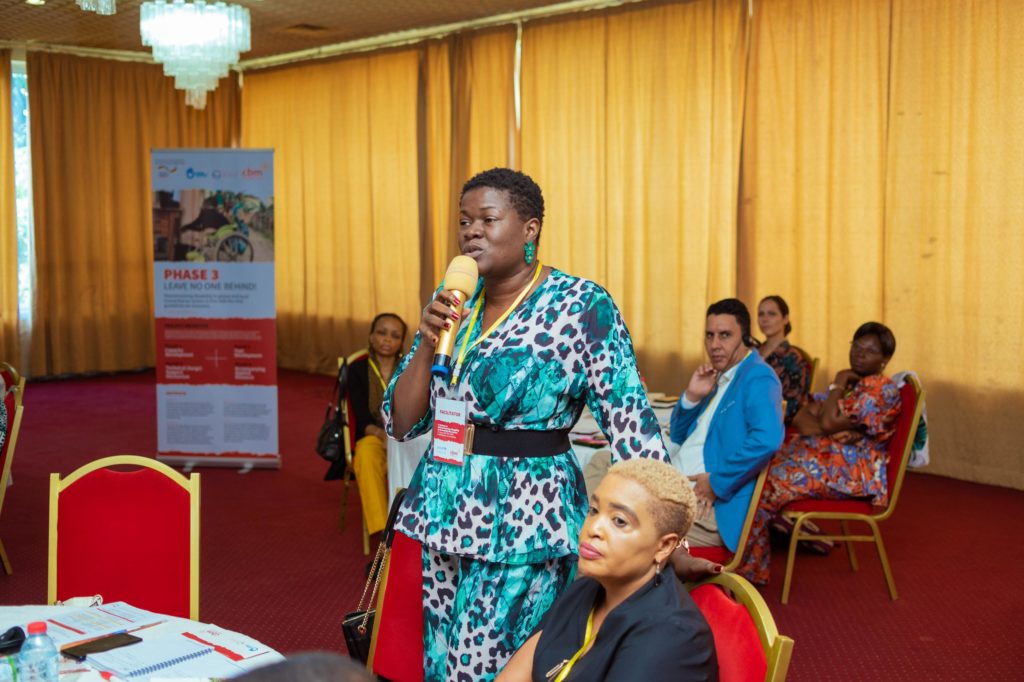 Photo Copyright: CBM
Text by Sefenu Adzinyo