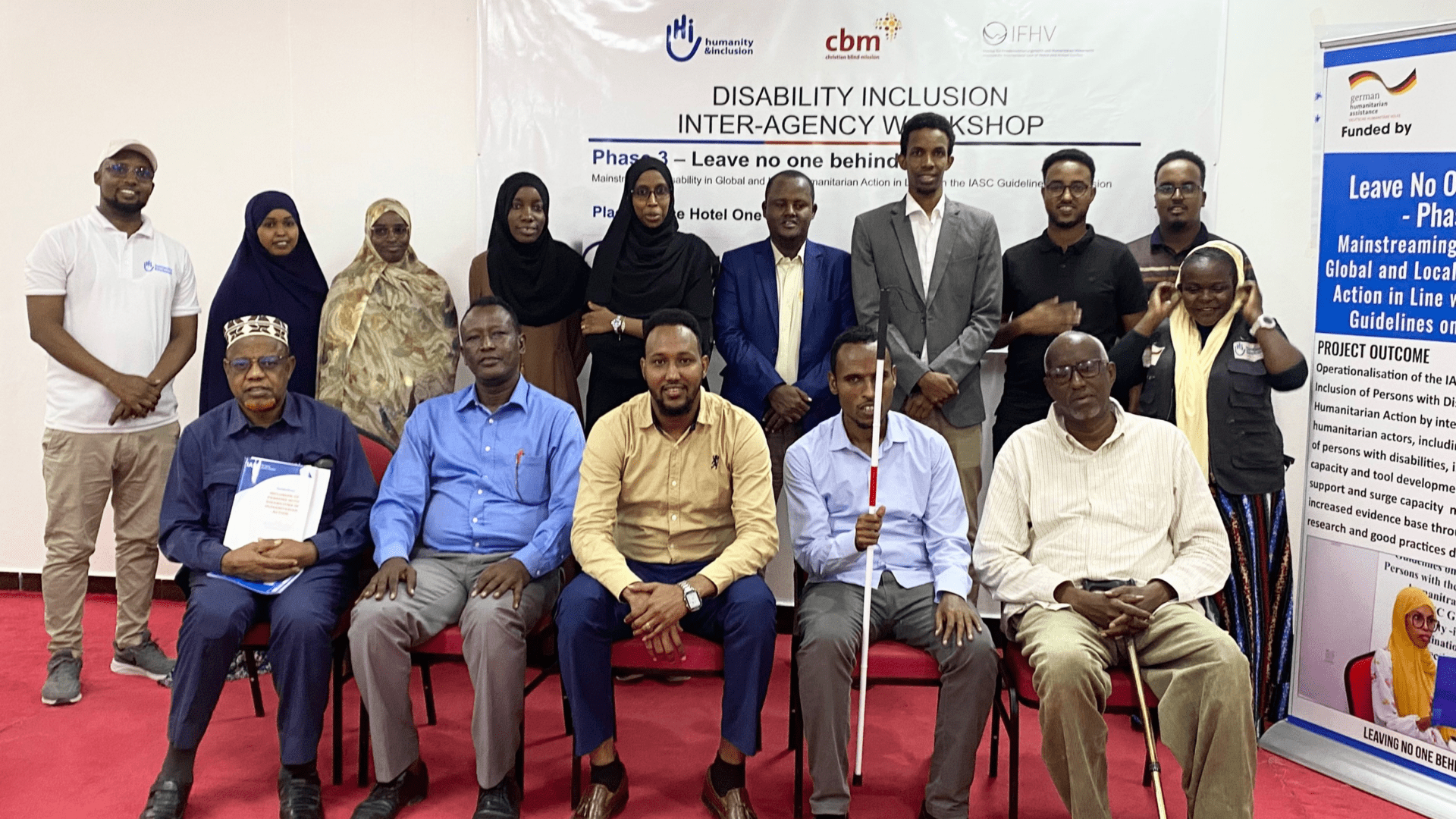 There is a growing need to build capacities of humanitarian actors for better inclusion of persons with disabilities in humanitarian programming. It is imperative that new solutions are sought to strengthen local expertise and enhance sustainability of the provision of technical support.
One of the objectives of our Phase 3- Leave no one behind! project is to establish a sustainable local pool of trained humanitarian workers and members from Organizations of Persons with Disabilities (OPDs) as a technical support mechanism that can provide technical support within their own organizations and in the wider humanitarian response, even beyond the end of our project.
End of August 2023, HI Somali/land team organized two kick-off workshops on setting up an Inter-agency technical support mechanism in Mogadishu and Hargeisa. The workshop participants were drawn from the newly set up Disability Inclusion Working Group (DIWG) Somalia, and previous RAAL Lab training participants. The participants came from international Non-Governmental Organizations, national Non-Governmental Organizations, UN agencies and Organizations of Person with Disabilities (OPDs).
The first workshops were organized to discuss how inter-agency technical support mechanism could work in Somalia and Somaliland context, and to define the roles and responsibilities of its members. Beside, knowledge gaps were identified and possible entry points in strengthening disability inclusion in humanitarian action within the wider humanitarian response recognized.
As a way forward from the kick off workshops, participants outlined their willingness to be members of a Disability Inclusion Technical Support Team. As a result, two taskforce teams were established, one in Mogadishu and one in Hargeisa. The task forces' main aim will be to provide technical support and trainings to partners within the wider humanitarian response who request support on disability Inclusion.
The participants agreed also on some key actions, including regular meetings to be held bi-monthly, requested for upskilling activities on Inclusive data collection strategies, Inclusive AAP and more on the 4 Must do actions as outlined in the IASC guidelines on Inclusion of persons with disabilities in humanitarian action and act as a pool of trained persons.
"Technical support mechanisms can help us work together as peers to identify and address barriers to disability inclusion in our programs and policies."

Abdirashid Mohamed Abdirahman from Danish Refugee Council.
"The inter-agency technical support mechanism workshop was very practical, knowledgeable and there were a lot of discussions on mainstreaming disability inclusion in our projects and how the inter-agency taskforce is applicable in ensuring our future programming to be more inclusive even within our own organizations."

Maryan Osman, Senior Protection Officer, Catholic Relief Services (CRS)
"Thanks to Humanity & Inclusion for this important workshop for disability inclusion mainstreaming in line with IASC guideline and pioneering to establish a disability inclusion technical taskforce which is very important to help us support even other partners to be disability Inclusive, and we hope that in the future to do a lot of work together."

Abukar Hussien, Disability Aid Foundation (DAF) also a member of the Disability Inclusion Working Group (DIWG).
The kick off workshops were facilitated by the Somalia and Somaliland project team and co-facilitated by OPDs members, who shared their experiences on being excluded from accessing humanitarian services. They also emphasized on the importance of supporting all other humanitarian organizations to be more Inclusive and not just the disability focused organizations.
Text and photos by Bashir Ahmed Abdi | IHA Project Manager I Somalia