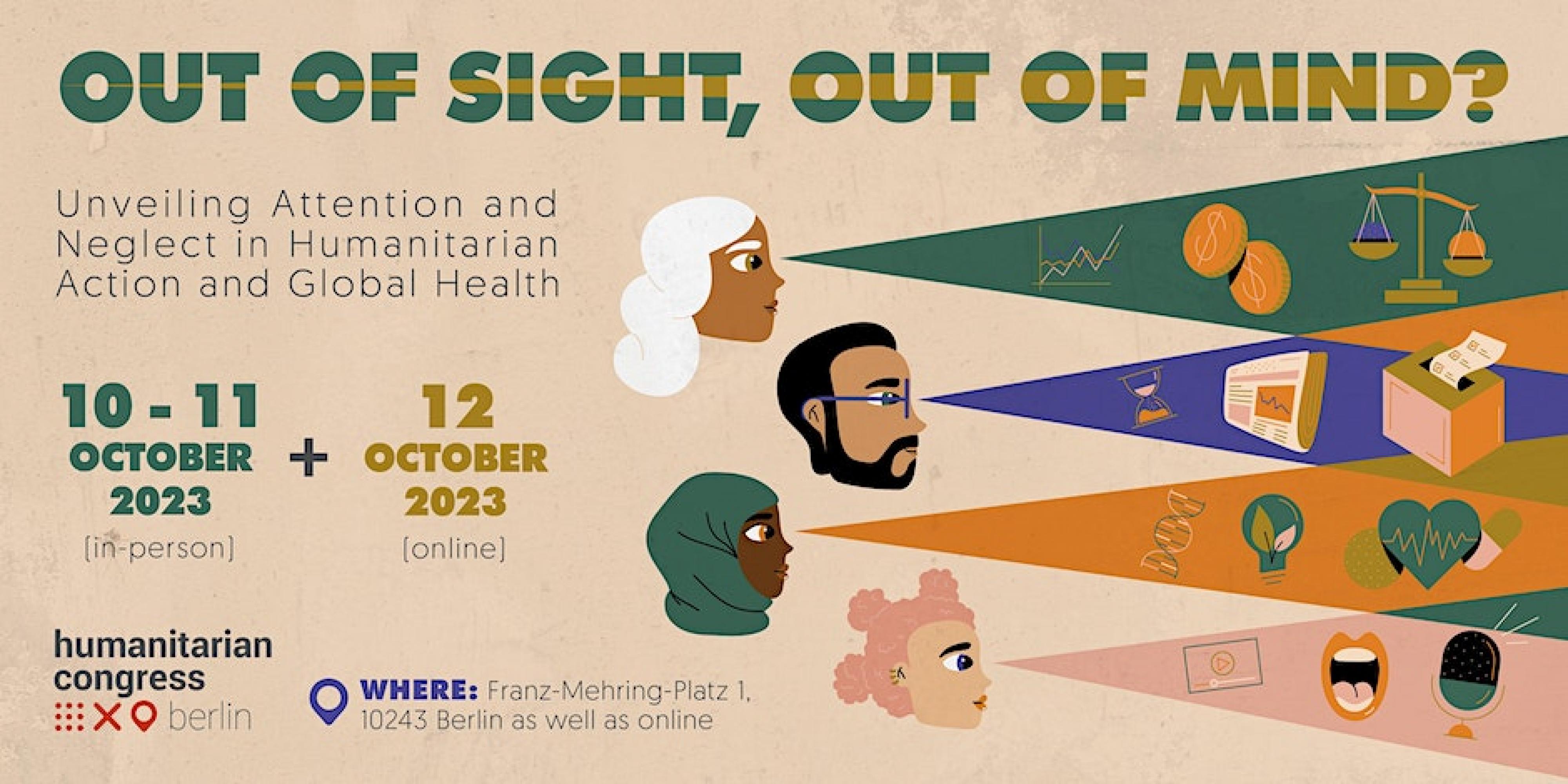 This year's Humanitarian Congress Berlin is fast approaching, and HI will be the official accessibility partner with an own panel on Inclusive Humanitarian Action! The Congress takes place on October 10-12 online and in-person with the theme of "Out of Sight, Out of Mind? Unveiling Attention and Neglect in Humanitarian Action and Global Health."
Our project "Phase 3 – Leave no one behind!"supports once again the Humanitarian Congress Berlin (HCB) with technical and financial assistance.
Since Phase 1 we are actively collaborating with the HCB to support the accessibility of this key humanitarian event and to mainstream disability as cross-cutting topic by placing speakers in panels and workshops. The successful multi-year engagement resulted in the acknowledgement of HI being the official Accessibility Partner of the HCB 2023. With the topic "Out of Sight, Out of Mind? Unveiling Attention and Neglect in Humanitarian Action and Global Health" the upcoming congress aims to unpack the complexities, drivers and consequences of biased and changing allocation of attention and shed light on potential solutions.
Contributing to this important conversation, we are organizing a panel discussion on the main stage on October 11th, 3:00 pm CEST: "South Sudan: Leaving no one behind in neglected crises".
We are pleased to welcome four speakers to the stage to share a variety of experiences, from Organisations of Persons with Disabilities to International Organisations. Join to hear perspectives from:
Maout Anyang from the South Sudan Union of the Visually Impaired and a fellow at the International Disability Alliance,
John Kimani of the United Disabled Persons of Kenya,
Grace Awino from the World Food Programme, and
Umikalthum Shukri Noor of UN OCHA!
The panel will discuss how neglected, forgotten, and under financed crises require both more specific targeting of those households most at risk, as well as addressing underlying risk factors and/or mitigating them. By looking at a protracted but neglected crisis such as South Sudan, we will discuss how reduced or redirected funding often leads to reduced effort to reach those at heightened risk.
The panel will also discuss what opportunities exist to strengthen the capacity of local actors and persons with disabilities to be empowered actors for change. The panel will take an intersectional lens, looking at women, girls, men and boys of all age groups, as well as other groups at risk of marginalization.
If you cannot join us in-person in Berlin, you can follow our and many of the other panels online via live-stream. To participate online, please register for free on the HCB 2023's webpage and engage with your thoughts and comments with us! With our support, the online panels on the mainstage have live captions and are translated into French and Spanish.
Beyond our support and panel, HI Germany will also have a stand in the congress hall to inform participating experts from humanitarian organisations, donors, and the media, as well as young professionals and students interested in humanitarian work about our work and mandate. For the first time, HI Germany's HR department will also join our stand to inform about HI's various job opportunities.
Check out the interesting programme, join us online and share with your colleagues and networks!