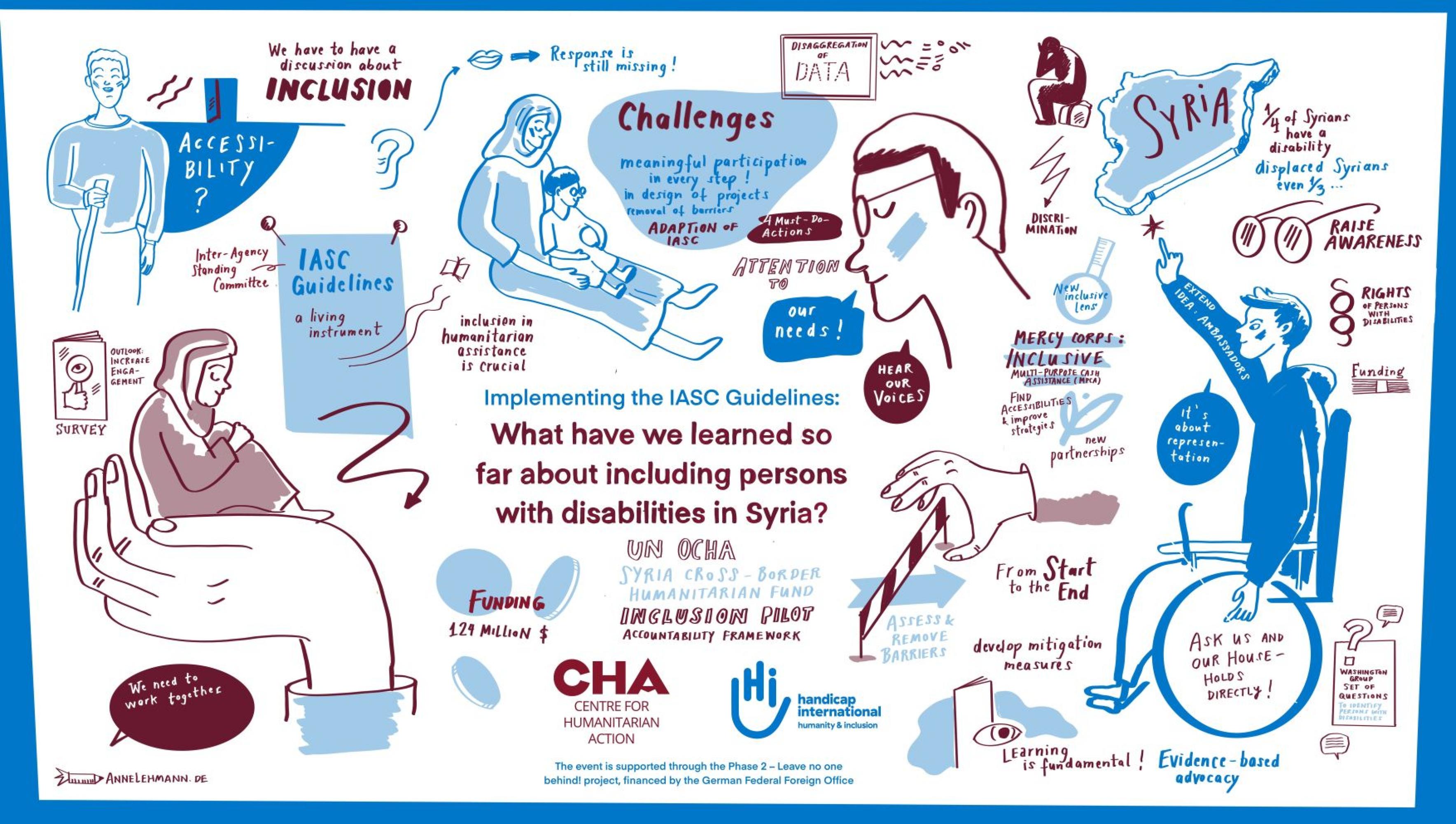 On 29 September 2021, Handicap International e.V. and the Centre for Humanitarian Action e.V. (CHA) have hosted an accessible online event (e.g. with international sign interpretation) on:
"Two Years on – The IASC Guidelines on Inclusion of Persons with Disabilities in Humanitarian Action: What Are Promising Practices, Challenges and First Lessons Learned in Syria?"
The participants were welcomed by Pit Köhler, Head of Division, Humanitarian Assistance – Policy, International Organisations, Multilateral Coordination, German Federal Foreign Office. Köhler emphasised the four must-do-actions stated in the Inter-Agency Standing Committee (IASC) Guidelines, namely:
promote meaningful participation,
remove barriers,
empower persons with disabilities; support them and humanitarian actors to develop their capacities,
disaggregate data for monitoring inclusion.
Köhler also re-affirmed Germany's commitment to the implementation of the IASC Guidelines.
The opening remarks were followed by a discussion with:
Davide Amurri, Deputy Manager – Head of Monitoring Humanitarian Financing Unit, Syria Cross-border Humanitarian Fund (SCHF), United Nations Office for the Coordination of Humanitarian Affairs (UNOCHA)
Gulnaz Ibrahim, Ambassador for Persons with Disabilities in Northeast Syria
Ibrahim Kader, Emergency Programs Coordinator, North East Syria (NES), Mercy Corps
and moderated by Ralf Südhoff, Director, Centre for Humanitarian Action.
The accessible graphic recording visualising the key messages, the video recording with English subtitles and additional event material are available here.
"What a great insight into Syrian setup and voices from the field and the different perspectives on progress around disability inclusion, 2 years after the IASC Guideline launch, all combined in one panel."

Participant
We would like to thank all participants for their interest!
The event was supported by the project " Phase 2 – Leave no one behind!", which is financed by the German Federal Foreign Office (AA).